We had Hillhead Caravan Site pre-booked for months and was really looking forward to spending two weeks there – I'm glad to say we were not disappointed!
After the 250mile trip we arrived at the site and found the entry layout to be very clearly marked with two lanes for arrivals and one lane for site traffic, all with key code barriers. The reception was extremely helpful and we mentioned we would like to get a sea view. All the sea view spots were pointed out on the site map and the route around the site explained. As we drove around the site the sea view hits you in the face and although the site was pretty much full, we managed to get a brilliant grass pitch in a 'cul-de-sac' of three vans (pictures can be found on my 'mackney' flickr account).
The electric hook-ups have TV sockets and for £12.50 you can purchase a 25mtr TV coax cable from the site shop. Using the site hook-up with no caravan booster I managed to get 83 digital Freeview channels! Amazingly the omni-directional caravan roof antenna with 12v booster also picked up about 60 channels and my directional antenna on an A frame mast picked up 83 channels from a different transmitter across the bay. This meant the kids were sorted with CBEEBIES at 7am in the morning allowing us to lie in 😉
The toilet blocks and showers are absolutely the best I have seen anywhere. Everything has been re-furbished / re-built and there are plenty of facilities everywhere! The outdoor swimming pool is split into a kids shallow pool and a deep pool, it is obviously a big hit with the kids, but they also allow periods in the main pool for adults only. The onsite bar/clubhouse is also very new and perfectly finished with plenty of seating inside and out and a stage/dance floor for nightly entertainment. Friday night was theme night and I recommend the Indian selection with 'as much as you can pile onto your plate' for a fixed fee of £8.75. The food price is fairly high, but you are paying for good quality – which is what I would prefer. A pint of Devon Cream is currently £2.60 (and it's my fave)
The wardens are all very friendly and helpful AND very good and efficient at their jobs – The site is immaculate and tidy and grass is constantly cut. The children's play area has a massive wooden castle/fort with lots of climbing to be had. There is also a football pitch and dog walk with amazing sea views.
If there any negatives of the site would be that it is very popular (and so it should be) so it's always full and the spaces can be tight – especially manoeuvring – which had to be done on the motor mover or by asking the friendly wardens to help with the tractor. Also the grass pitches can be subject to high winds (it is on the coast!) and in very bad weather our pitch flooded. However, it drained away quickly.
The area is fantastic, Steam train heaven! And great for photographers and boat lovers! Take the car ferry to Dartmouth for £3 per car or the foot ferry for £1 per person. We (4 adults and 3 children) hired a motorboat for £15 per hour and drove up the river – definitely a recommended activity! We didn't manage to find a 'pure sandy' beach as we do in North Devon (Saunton, Croyde) but we found Blackpool Sands (should be called Blackpool pebbles) to be of outstanding beauty with a carpark right on the beach! With the clear sea and sun shining it looked like you could be in the med! The National Trust property – Coleton Fishacre is literally down the road from the campsite and has an amazing luxuriant garden by the sea, with an Arts & Crafts-style house.
We will definitely be going back.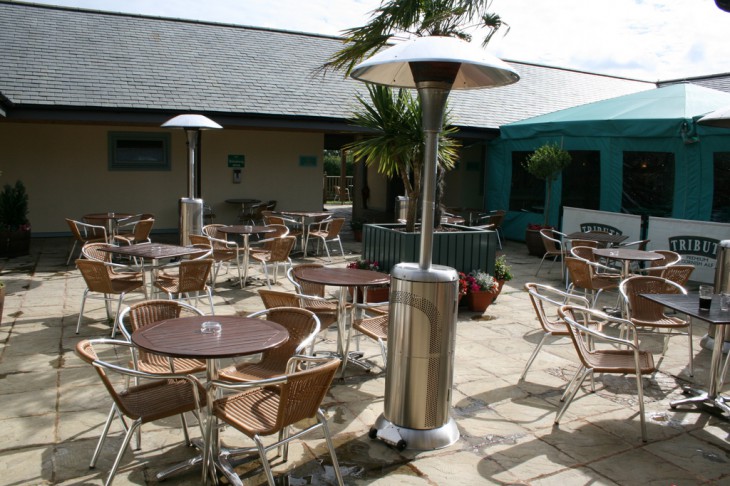 Hillhead Holiday Park Caravan Club Site Hillhead Park, Brixham, TQ5