A couple of years ago I took our touring caravan across the ferry for a trip around France but due to the fact that towing a caravan from Derby to Poole takes so long (220 miles at 50 miles an hour) we decided to stay only 15 miles from Cherbourg in Normandy. This year we decided to leave the caravan and hop further by having short stops in a tent – It sounds easy, but with two small children to cater for, it took a bit more organisation.
For the benefit of another young family looking to do a trip around France here are a few details and photos of the sites and area.
Stuff you're gonna need (listed on Amazon here
):
A tent (for "hopping in France" this needs to be quick to erect and light enough to save on fuel!)
Airbeds and pump
Fold away Chairs (for the beach too)
Basic stove and pan set (we are talking essential coffee here, not main meals 😉
Cups and plates
Cool box
Sleeping bags & pillows
Portaloo/bucket!
Tent lantern and torches
Charging tech
Lightweight table
Services and costs that needed to be setup/considered:
Holiday or Travel Insurance
European car insurance
European breakdown cover
Toll charges in France (we spent about 60 Euros)
Petrol costs (use this fuel calculator)
Passport renewals!
Things that you need to carry by French law:
Fire extinguisher
High visibility vests (for each traveller)
Headlamp beam converters
Breathalyser
Emergency bulb kit
Warning triangle
First aid kit
Jump leads or a Jump starter (not actually law in France yet)
Also, if you haven't already got one, get a Sat Nav system with European mapping as this not only plans your route but tells you the current speed limit in KMPH and the times to get to your next destination. Plan all your destinations with both co-ordinates and longitude and latitude depending on what your Sat Nav accepts BEFORE you go (use this tool to check location).
Trip around France
As a young family we decided to travel no more than 2000 miles in a round trip from home – bearing in mind that the trip to the UK ferry port is 220 miles for us. Here is the map of destinations …
View Road Trip around France in a larger map
First stop: Dover P&O Ferries (51.117196, 1.307502‎)
We booked in advance and aimed to get there earlier than the departure time, if there is availability they will just slot you on to an earlier ship. Dover to Calais is only about an hour and you can grab a meal on the boat.
Next stop: Castel La Bien Assise (50.866482, 1.858170) 11 miles / 20 mins
After already having travelled for 5 hours we wanted to stop near Calais – also remember that the clocks had now been forwarded an hour. The campsite at Castel La Bien Assise has a pool and a restaurant – which was pretty essential.
If you want croissants or a French stick in the morning (at any camp site) then it's essential to put an order in for these the night before. Buy Grimbergen beer at the bar or bottles of Westmalle from the shop! The morning consisted of breakfast and packing the tent away ready for the next trip…
Next stop: Camping Saint Michel (48.628374, -1.416126) 278 miles / 4 and a half hours.
This site was half way to the next destination, but was also selected because Mont Saint Michel is very close. The site has a pool and a restaurant – which again was very welcome. The highlight here was visiting Mont Saint Michel in the evening when is was pretty empty – we didn't leave until 11pm.
After packing the tent away the next journey was only 170 miles …
Keep your eye out for motorway aires – they will be signposted with picnic symbols. These can range from simple picnic areas with toilets (take your own toilet paper) to full services like in the UK. The picture below is a pretty typical view from one of the motorway aires on the route.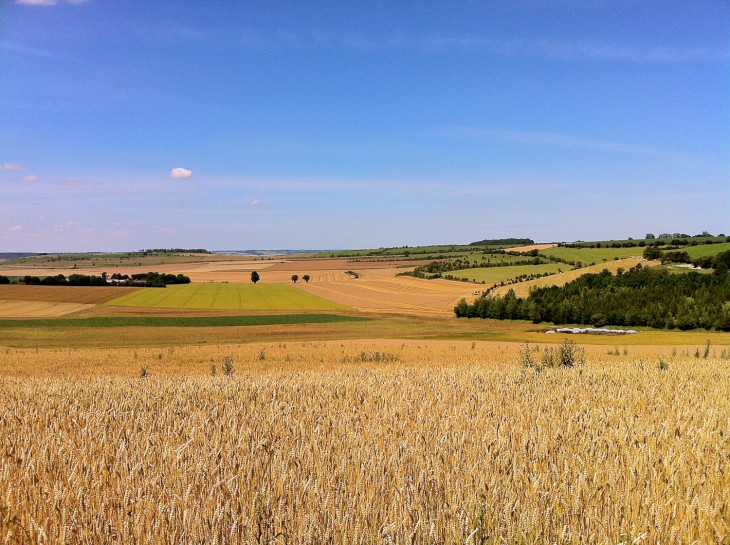 Next stop: Les Ecureuils (46.744934, -2.009881) 170 miles / 3 hours.
Now, this is where we ditched the tent for a while 😉 we stopped in a Keycamp caravan in the Vendée – there was no way we would survive with two small children in a small four berth tent with a small gas stove for two weeks. Plus it was getting really hot – it got to 38 degrees inside the caravan.
The site has everything you would expect from a main holiday complex – pools, water slides, restaurants and bars.
Plus, the beach was at the entrance to the site …
While in the Vendée The Château d'Apremont is worth a visit…
After our stay at keycamp, with no tent to put away we were off to the next stop – only 30 miles away…
Next stop: INDIGO NOIRMOUTIER (46.997018, -2.220065) 30 miles / 1 hour.
Now, this is a site and a half, Noirmoutier-en-l'Île is an island and the site is situated right on the beach you can literally run out of your tent and jump into the sea!
After a couple of nights it was time to pack the tent away AGAIN ready for a much longer drive…
Next stop: Novotel Marne Vallee Collegien (48.830327, 2.67821) 300 miles / 5 and a half hours.
The main reason for staying at this hotel was it's location in relation to Disneyland Paris – I don't really need to explain why we took two young children there do I?
Last stop before home: Calais P&O Ferries (50.965427, 1.857119) 200 miles / 3 hours.
An hour on the ferry, some fish and chips in the mess and then the last leg of the journey back home. We covered about 1700 miles, consumed 56 packets of crisps and played 104 games of eye spy.
I'd recommend the journey to anyone and would definitely do it all again.
'au revoir'